Bulgaria
Bulgaria is part of the Balkan Peninsula in South Eastern Europe. The state of Bulgaria was first founded in 681 AD and has a long and varied history. Since January 2007, Bulgaria is a member of the European Union.
Here are some facts about Bulgaria:
The oldest crafted gold in the history of mankind

Of the 300 cultural and natural sites in the UNESCO List of World Heritage, nine are in Bulgaria.

Bulgaria is the country of yoghourt, the food of the centenarians.

The world's perfume and cosmetics industry could not do without the Bulgarian attar of roses; the Bulgarian oleaginous rose yields 80% of the world's production.

Small Bulgaria is one of the world's largest wine producers together with France, Spain, Italy, and Greece.
Bulgaria is a beautiful mountainous country, with tourism opportunities being one of its biggest assets. Bulgaria possesses beautiful landscapes and beaches. The Black Sea coast on its east border is famous for its fine sanded beaches, and perfect temperatures of water and air.
Sofia
Situated among vast parkland, Sofia, the capital and largest city of Bulgaria, lies at the foot of the Vitosha Mountain, a popular ski destination. With a history that stretches over seven millennia, ruin-rich Sofia is one of Europe's oldest cities. The National Historical Museum is one of Eastern Europe's most extensive and the Boyana church nearby is a UNESCO monument.
Traversed by a modern metro, the city of Sofia is an intriguing mix of wide and graceful Parisian-style boulevards and communist-era architecture.
Enjoy a stroll down Sofia's chic pedestrianised Vitosha Street full of charming boutiques, tempting cafes, and cosy bistros. Do not miss the stunning gold-domed Alexander Nevski memorial church and the unique collection of early Roman mosaics in the crypt of St. Sofia church.

Getting to Sofia
By plane
Sofia airport is located 10 km from the centre of Sofia city. It has two terminals. Terminal 1 serves mainly low-cost and charter airlines. Terminal 2 is significantly bigger and currently serves many companies and Ryanair flights as well. There is a white free shuttle bus running every 30 minutes between the two terminals. There are a few kilometres between the two terminals and they are not in a walking distance. Public bus line 84 travels to both terminals. Allow 30 to 40 minutes to reach the city centre depending on traffic.

By car
If you travel by road, please visit your favourite route planner for detailed directions from your place of origin. GPS coordinates of Park Hotel Moskva: GPS: N 42.6741459 E 23.3484383

By bus/train
Park Hotel Moskva can be reached also by using an international bus or train to the Central Bus and Railway Station.

Getting to the hotel

From the airport
Park Hotel Moskva is located 12 kilometres away from Sofia International Airport. The hotel can easily be reached by using the underground (Joliot-Curie station). The Metro No 2 Blue Line travels from/to Terminal 2. The trains run every day between 5:30 and 24:00 and take around 20 minutes to Park Hotel Moskva and 30 minutes to the city centre. Make sure you check carefully the terminal that you are arriving at or departing from.
The metro operates with separate tickets that are not valid for other modes of public transportation. Tickets are only sold at the metro stations at cash-only ticket machines or at manned ticket booths (again cash-only). The cost of this transportation is 1.60 Lev. The tickets are only valid up to 30 min after purchase.
A taxi from the Sofia airport can be ordered as well. There is only one company that is allowed to service the airport (OK Supertrans). We recommend that you do not use taxi services offered outside the office of the taxi operator or in front of the terminal to avoid overcharge.

From the bus/train station
If arriving by bus or train, the hotel can be reached either by taxi (OK Supertrans or Yellow Taxi) or by underground train. A change of lines will be needed at Serdica Station).

Organised transfers
Participants can order individual transfers from Sofia airport (bus/railway station) to the hotel or v.v. to CME Ltd. The price per person for one direction is 16 Euro. On arrival at Sofia airport, a member of the organising team with a sign with symposium name will welcome participants. The organising team will take care of all transfer arrangements from the airport (bus/railway station) to the hotel. On arrival and during the first day of the event, delegates will be asked to confirm their departure times. Transportation will be organised from the hotel to the airport (bus/railway station) for those guests who have booked and paid the transfer individually.

Passports & visas
Bulgaria has the European Union's Common Visa Policy as a member country accepting European citizens freely. All non-European citizens are required to have a passport to enter the EU with valid visas. Please visit http://mfa.bg/en/pages/109/index.html for further details. In case you need an invitation letter, please send an e-mail to This email address is being protected from spambots. You need JavaScript enabled to view it.

Money
The national currency is the Bulgarian Lev (BGN). Bank notes of the following denominations are in circulation: 2, 5, 10, 20, 50, and 100 Levs (reference rate: 1 Euro = 1.95583 Levs). There are numerous foreign exchange offices and ATMs around the city centre. It is always prudent to carry a little foreign cash, however, in case you cannot find an ATM or bank office nearby. You can always change cash at the hotel though the commission could be high. Make sure you have enough of the national currency when you plan to visit local markets and shops.

Tipping
When a gratuity is not included in your bill, which is usually the case, 10% is customary. If service is outstanding, you could go as high as 15%. With taxi drivers, you usually just round up the sum if you have been happy with the ride or for the sake of convenience.

Climate
The climate in Bulgaria is moderate continental with beautiful blooming spring, dry and hot summer, long and pleasant autumn, and mild winter with lots of opportunity for skiing. The weather at the end of August is hot and sunny. Daily temperatures usually range from 25 to 30ºC.

Time
Summer time: GMT + 3 hours (end of March through end of October)
Electricyty


220 Volts, 50 Hz. Bulgaria uses CEE 7/4 (German Schuko) power plugs and sockets.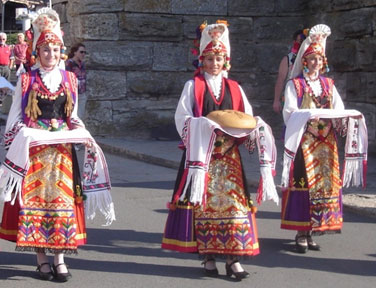 We look forward to seeing you in Bulgaria!